Booking and Staying with us…
… is simple and safe
We're a family business and we've been around for a while… big enough to deliver, small enough to care! 
Our Cosy Cottages… Woodlands Retreats… Unique Conversions…
…have been purpose built or altered and maintained by us.
REASSURANCE FOR BOOKINGS DURING A PANDEMIC IN ENGLAND:
There are no communal facilities or interaction with any other guests and we operate low profile staffing so that you can enjoy your stay as peacefully as desired.
Your accommodation will be cleaned and prepared within government pandemic guidelines by or own dedicated cleaning team.
High touch items (such as the previously printed welcome book and some decorations) have been removed to maintain high levels of hygiene.
Due to any government restrictions, if after booking has been confirmed and payments cleared we are unable to provide your accommodation, or if you are not allowed to travel/stay overnight, we will endeavour to exchange your dates to a suitable alternative, or provide a voucher or refund accordingly.
To help out during this period, we will also try to more flexible with your final payment date, which will be noted when we email a booking offer to you.
For further details on bookings during a pandemic in England, and for anything else, please refer to our standard policies detailed in The Small Print.
For ease and convenience we have now moved our own booking system online on our own secured website:
Booking…
We may not have the most flashy booking system, but we can think outside the box, make your booking bespoke, tailoring to your needs, offer an abundance of local knowledge and look after you all the way through your booking and holiday.
Where we can throughout our website we will share with you our approximate prices and availability, but to get what you really want, please first Be In Touch direct.
We'll reply with a "Your Holiday Booking Offer" email which will contain a table looking like this: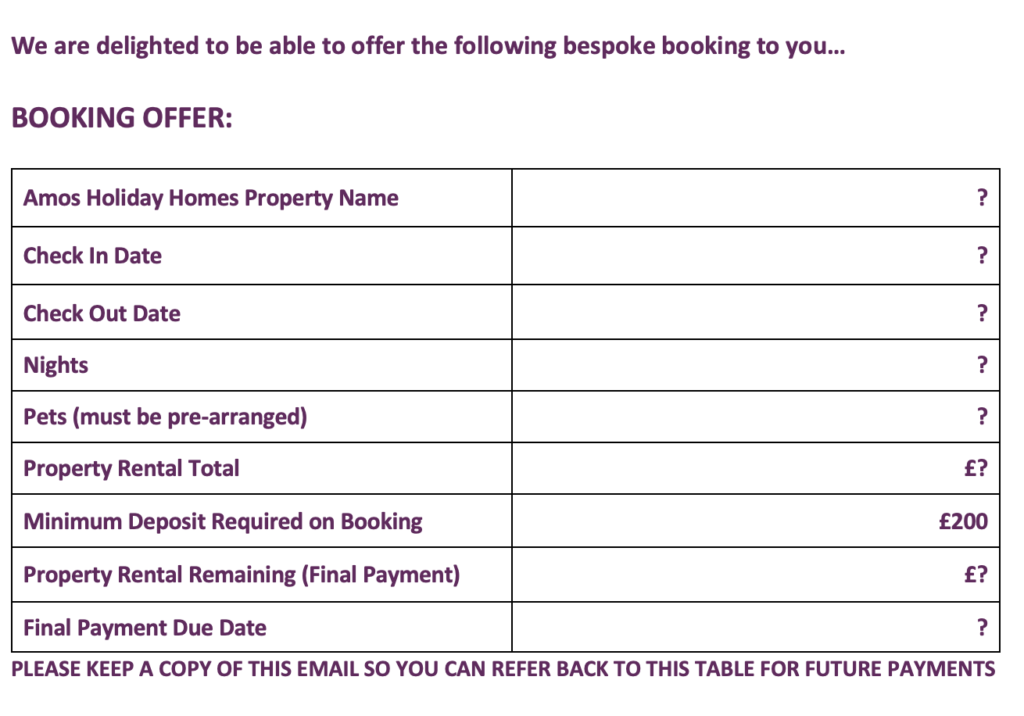 The "Your Holiday Booking Offer" email will also contain a link to an online "Booking" form right here on our secure website, so that if you like what you see we can get things started. 
If we are unable to accommodate your request (due to dates or number of guests) we will try to find alternatives which may suit. This will be sent to you in a "Your Holiday Alternative Booking Offers" email. 
When we reply to your completed online "Booking" form we'll let you know how to pay the £200 rental deposit via an online "Payment" form (the same form can be used for any other payments at any time). This is not an automated system, rather a method of telling us what you are paying for and how…
For deposits only, we can accept payment via PayPal. You don't need to have a PayPal account, we would send a PayPal invoice to you by email, then you can pay by following the link in the PayPal invoice to their website where you can enter your card details securely. Due to processing fees and potential fraud we do not currently accept card payments for remaining balances or full and final payments. If you wish to pay your deposit by card/PayPal invoice instead of bank transfer, please indicate this to us by selecting "PayPal" in the selectable dropdown option when completing the Payment form.
Once payment has cleared we'll let you know with a "Booking Secured" email.
In normal times we ask for final payment eight weeks before you arrive (via the same online "Payment" form again), but we'll be flexible where we can be and it is also no problem to arrange a last minute booking for you, if we have availability. The Final Payment Due Date is in the table in "Your Holiday Booking Offer" email. As a reminder we may send to you a "Final Payment Due" email, but you can make the payment anytime before this date if you wish.
After your Property Rental Total has been settled, you'll see a "Final Payment Confirmation and Self Check In" email.
~
Self Check In… FOR ALL LEAD GUESTS (lead guest must be in residence)
In a nutshell…
Use the link in your agent confirmation or email by us to:
Tell us about your booking
Download the welcome book pdf
Choose if you want to pre-pay any optional extras
…When you click "Submit" at the bottom we get a copy of it. We check it when we're in the office and then send a PayPal invoice (no account needed) for it all. Then when you leave we process the refundable "Good Housekeeping Deposit" (security deposit) element to your PayPal account or debit/credit card whichever you used to pay the PayPal invoice with. It's usually back in your account the same day it's processed.
Further Info…
At two weeks before arrival, we ask all lead guests, whether they have booked direct with us, or via an agent, to be in touch with us by completing a "Self Check In online" form (please remember to keep your contact details up to date with us in case we need to send a reminder). 
You will also be asked to pay for a fully REFUNDABLE (subject to terms and conditions) Good Housekeeping Deposit via a PayPal invoice (you can pay by card or using a PayPal account if you have one). Costs and details are available in The Small Print and at the top of the Self Check In online form.
Access to the "Self Check In online" form is provided by:
A link (provided in booking confirmations and in the Good Housekeeping Deposit PayPal invoice).
PLEASE LOOK OUT FOR THE PAYPAL INVOICE AND ANY EMAILS FROM US IN YOUR INBOX / JUNK FOLDERS AS THEY SOMETIMES END UP BEING FLAGGED AS SPAM. 
In the meantime, for an example of some pre-arrival info, please click/press on the following hyperlink:
Example of Pre-Arrival Info (Self Check In online and Good Housekeeping Deposit)
The reason we operate self check in is that we have low staffing on site (but have protection for all via non intrusive CCTV), and one reason we ask you to start this process online as early as we can is that all the information you need is now in a downloadable welcome book (you must have it with you for arrival), and payments for optional extras can take time to clear.
This has proven favourable to guests throughout the pandemic and to uphold strict hygiene standards we have removed unnecessary high touch items such as the printed welcome book. With all of our properties being self contained, self catering, offering all private facilities and low profile staffing, you're able to enjoy your holiday safely and peacefully. With your health in mind we have also temporarily amended our check in time to 5pm and check out time to 9am to give our dedicated and talented team enough time to make preparations. If we foresee a possibility to make these times more favourable for you we will absolutely and automatically let you know via email/sms, please kindly avoid the temptation to ask, in some cases we won't know until the day of your arrival. If you would like any inspiration on what you can see and do during your journey to us please let us know if we can help with some ideas… 
Your welcome book does contain a lot of useful information about the local area including things to see/do and local supermarkets where you can stock up on your journey. Within it you'll also find instructions, guides and policies which you'll need for your stay to gain access and enjoy the facilities. It's especially important that you read through it before packing and beginning your journey to know what to take and where to go. It wouldn't be wise to wait until you arrive to download the information as mobile data in our secluded locations really isn't the best! (But don't worry… if you need to stay connected while you're away, we have invested in mega fast WiFi installed specifically for us which you can log into AFTER gaining property access).
As of April 2022, WiFi at School House and Ramshorn Estate is FREE.
During Self Check In online you'll be able to download your welcome book and pre-pay for any optional extras which you may not have arranged yet and are only available via us:
Pets

especially must be pre-approved and paid for at £49 each (the first pet at School House is free). If you wish to bring more than two pets please contact us to discuss this.
Logs are included at School House but are chargeable at Ramshorn Estate (£5 per basket, but you do get the first one free). 
Please be aware that some payments may take several business days to clear, hence us starting things at two weeks to go.
Once we've received and checked your Self Check In online form and any Final Payments have cleared, we'll aim to send your "Link to Access Codes and Arrival/Departure" email by one week to go.
…That's it! 
UPDATE:
A new exciting development is currently taking place next to Ramshorn Estate!
6 brand new lodges with hot tubs, some with games rooms. We are also investing heavily in infrastructure for old lodges too. Workmen will keep disruption to a minimum, please bear with us during this time.